Wildlife sanctuary in Karnataka is a place If you are among wildlife enthusiasts or are nature lovers. The exotic wildlife, mesmerising surroundings, and lush forests make Karnataka wildlife a paradise for all. The state is home to numerous wildlife sanctuaries, some popular and some waiting to be explored.
The Western Ghats is the biologically richest region of the world. In fact, the forests of Karnataka support 10% of the tiger population and 25% of the elephant population of the country. Blessed with some of the rarest and endangered species, Karnataka is indeed one of India's most prestigious wildlife destinations.
In the Karnataka state district of Gulbarga is a forest reserve called Chincholi Wildlife Sanctuary. The little settlement at its entrance inspired the naming of this sanctuary. This sanctuary's wild animals are its main draw. This sanctuary, which has a declared area of 134.88 square kilometers, was established in 2011.
Bandipur National Park
Wildlife sanctuary in Karnataka, established in 1974, with the second highest tiger population in India, this park is one of the premier tiger reserves of the country registered under Project tiger. Popularly known as Bandipur Tiger Reserve, this place was once the private hunting reserve for the Maharaja of the Kingdom of Mysore.
This national park is located in Gundlupet Taluk, in the district of Chamarajanagar. A part of this park goes into the Nilgiri Biosphere Reserve, making it the largest protected area in South India and the largest inhabitant of wild elephants in South Asia.
There is a strict ban on traffic from 9pm to 6am to help preserve the reserve inhabitants and to reduce the death rate of wildlife. Tigers, Indian elephants, leopards, dhole, sambar, sloth bear, chital etc, and many more animals, birds and biomes can be spotted in the Bandipur National Park.
Dandeli:
Popularly known as the adventure capital of South India, Dandeli is a beautiful city in the state of Karnataka, located at an altitude of 1551 ft. above sea level on the rocky trails of the Western Ghats.
A beautiful place synonymous to peace and adventure, Dandeli is home to untouched green landscapes housing a wide range of flora and fauna, colossal mountain ranges, nature reserves and fascinating wildlife.
Apart from other exciting sites in this beautiful city, the Dandeli Wildlife Sanctuary in Karnataka takes the cake! Located in the district of Uttara Kannada, the sanctuary covers an area of 866.41 sq.km and was officially notified as part of the Anshi Dandeli Tiger Reserve in 2006 and the Dandeli Elephant Reserve in 2015, by the state government.
Home to over 200 different species of birds, this sanctuary with its dense deciduous forests, is a bird watcher's paradise alongside providing a unique experience of crocodile spotting.
Kabini:
An essential part of the Nagerhole National Park, this wildlife sanctuary in Karnataka derives its name from the Kabini River and spreads across 55 acres, housing a number of herbivores, especially, Asian Elephants.
Known as an ornithologist's paradise, the Kabini Wildlife Sanctuary is famed for housing a vast species of rare birds too. It is also the home for the critically endangered oriental white backed Vulture along with eagles, Nilgiri wood pigeon, the Indian Bison etc., which can be spotted only via the Jungle Safari.
Nagarhole:

Upgraded into a sanctuary in 1988 and Declared as a Tiger Reserve in 1999, this national park was a very famous hunting reserve for the rulers of the Wodeyar Dynasty and has now been declared as a World Heritage Site by UNESCO.
As the 37th Project Tiger, this park has a very healthy predator to prey ratio and is home to the Royal Bengal Tiger, Indian Leopard, Sloth Bear, Striped Hyena, Gaur, Elephants, Chital, Sambal Deer and Barking Deer. It is also known as the Rajiv Gandhi National Park and is located in the Kodagu and Mysore district of Karnataka.
Kudremukh:

Deriving its name from a hill top that resembles the shape of a horse's head, the Kudremukh National Park is located a distance of 96 km from the district of Chikmagalur and spreads over 600 sq.km at an altitude of 1894m above sea level.
This park is an origin of three very well known rivers – Netravati, Tunga and Bhadra along with an ancient cave with a temple of goddess bhagwati inside it which attracts many pilgrims. It is also a home for a wide range of flora alongside famous attractions like tigers, leopards, wild dogs, malabar squirrels, common langurs, sloth bears, porcupine, jackals, etc.
Mookambika: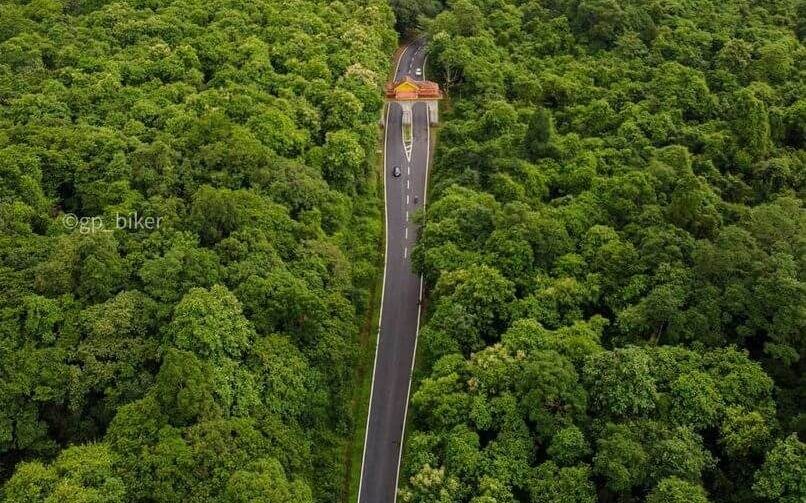 Wildlife sanctuary in Karnataka, named after goddess Mookambika, this sanctuary holds the famous Mookambika Temple in Kollur in its heart. This wildlife sanctuary spans over 370.37 sq.kms and is covered in thick evergreen and deciduous forests.
Major attractions of the Mookambika Wildlife Sanctuary range from the Mookambika Temple,the Kodachadri hills,the beautiful waterfalls like the Koosalli waterfalls to reptiles such as King Cobras, rare birds, jackals, deer, wild boars, tigers, etc.
(Visited 1 times, 1 visits today)