Casa Rosa is a brand-new,  luxury private villa in Candolim. This property in Goa, which is surrounded by beautiful green trees and located on a quiet street, exudes serenity and offers an unforgettable experience. This is great for couples or families searching for a luxurious vacation home in a tranquil off-the-beaten-path setting.
It has exposed-brick exteriors and clay-tiled hip roofs which gives it a  rustic charm look.. The property is set on one of the last pristine natural beaches in Goa. It also features a small garden that adds to the beauty of the estate.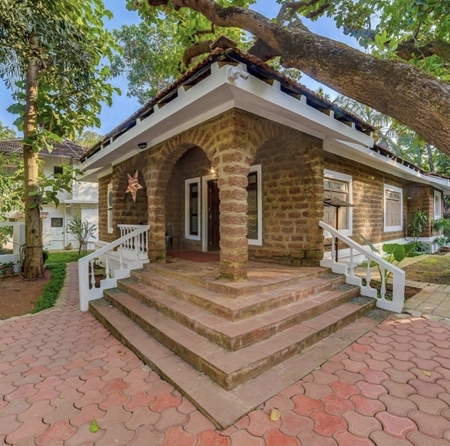 Amenities in the villa
The Villa welcomes travelers all year and It has a swimming pool at one end of the property, so you can take a rejuvenating dip to beat the heat. Punctuated with loungers and tables, the poolside area is ideal to relax and engage in a light chat over a cold beverage. 
The entire villa is decorated in stark white and is intended to provide a relaxing vacation. There is also plenty of beautiful space for you to enjoy the beautiful nature and a cocktail at sunset!
It features an elegant portico that leads to an expansive living-cum-dining area. This private villa in Goa flaunts its wide-open spaces, large windows, minimalist furniture, and pendant lighting, which lends it a traditional vibe typical of a Goa-n-home. Wonderful facilities and an excellent location make the Casa Rosa the perfect place to dive in Goa.
The living area boasts comfy armchairs, coffee tables, divans, and television, and is separated from the dining area by a couple of polished hardwood cabinets. If what you're looking for is a convenient place in Goa, look no further than Casa Rosa.
The rooms of Casa Rosa
One can unwind here with your companions at any time of the day. The bedrooms are air-conditioned with double beds, antique-style dressers, and wardrobes with ample storage space. The ensuite washrooms are tiled and fitted with western sanitary ware
How to reach Casa Rosa
5 minutes drive from Candolim beach and access to the local markets and restaurants
10 minutes drive from Baga and Calangute beach.
To book villas in Goa, Talk to us!
(Visited 1 times, 1 visits today)