Old Delhi's narrow lanes narrate numerous stories of overwhelming varieties of street food it offers which will tempt the foodie in you to further explore as you walk through the chaotic maze- like narrow lanes. The whiff of steaming cuisines on each lane keeps you from getting lost, giving you a real insight of how deep and intimate this old city's relationship with food has been, rooting itself back to the Mughal era. History is served and traditions rules on these old lanes generously garnished with culinary secrets that have been passed through generations after generations. Old Delhi is a food lover's paradise that promises to never disappoint your taste buds and appetite so here is a compact list of best food in Old Delhi you must explore on your next visit to the old gullies of Purani Dilli :
1. Jalebi from the famous Old Jalebi wala
This hundred year old shop at Chandni Chowk, is one of the oldest eateries in Delhi and is popular for serving some of the best juicy, hot and giant Jalebis of the city. 
2. Aloo Kachori from Jung Bahadur Kachori wala, Delhi

At an affordable pocket pinch of just Rs. 30, this lip smacking delicacy is served hot and fresh on a plate. The spiciness of the hot kachori will leave you asking for more.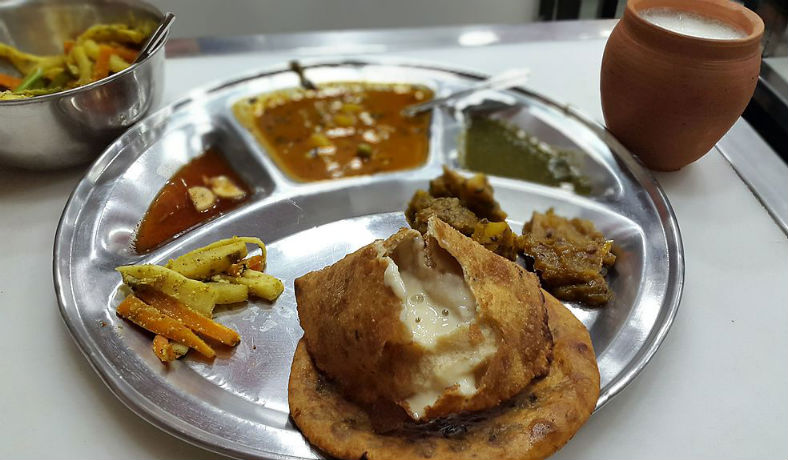 This famous street food shop is famed for its delectable kebabs which are served hot, juicy, tender and are absolutely savoury. This shop's culinary secret has been passed down with the owners of the shop for generations.
4. Natraj Dahi Bhalla, Old Delhi
With an ostentatious flavourful mix of sweet, sour and juiciness, this quaint shop is famed to serve the best Dahi Bhalla in Delhi. Their menu only consists of 2 authentic dishes in the menu that has been consistently served to its visitors since the 1940s.
5. Daulat ki Chaat, Famous dish in Old Delhi

This sweet milky creamy frothy chaat generously sprinkled with saffron and adorned with roses instantaneously melts into your mouth. Daulat Ki Chaat lives up to the hype with its cloud- like texture and lip smacking taste. Found on numerous stalls near Kinari Bazaar, this delicacy takes 6 hours of preparation and is freshly served during mornings.
(Visited 1 times, 1 visits today)